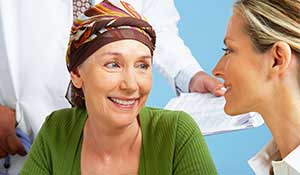 Facing a cancer diagnosis is a daunting challenge, but patients at Rapides Cancer Center should know they are receiving the most comprehensive and compassionate treatment available, including outpatient treatments such as Radiation Therapy and Chemotherapy, Genetics Counseling and support during the entire process with our oncology nurse navigator.
Rapides Cancer Center, located on the campus of Rapides Regional Medical Center, has joined forces with American Oncology Network to provide advanced, comprehensive and convenient care for patients throughout the region. American Oncology Network is a growing medical oncology provider with a focus on supporting the long-term viability of cancer treatment in communities across the country. This partnership gives patients and their families access to additional oncology services such as clinical trials, nutrition guidance, financial counseling and an in-house specialty pharmacy.
Rapides Cancer Center has been accredited by the Commission on Cancer since 1972. Cancer programs accredited by the Commission on Cancer exceed national quality care standards and provide communities with high–quality, multidisciplinary care based on patient–centered needs. Commission on Cancer programs evolve in response to new diagnostic and treatment modalities, quality assurance and improvement initiatives. Most recently accreditation focused on improved quality of care and patient outcomes.
By addressing patient-centered needs and delivering quality care measured against national standards, patients and families have access to world–class, cutting-edge and innovative oncology services in their local community.
Our staff provides exceptional care for patients who need outpatient treatment or inpatient treatment. Treatment options include radiation therapy, chemotherapy, blood transfusions, lab work, IV antibiotics and blood infusions. Many procedures, such as bone marrow biopsy, paracentesis, thoracentesis, spinal tap and insertion of central venous catheters are also performed.
At Rapides Cancer Center we offer:
The best cancer care close to home
Education and support for patients and families through their journey
A full range of oncology care comprising of prevention, screening, diagnosis, treatment, wellness and survivorship
Fast diagnosis to treatment times
Specialized surgical oncologists who offer the latest minimally-invasive robotic surgery options
Multi–disciplinary cancer case conferences that bring Rapides Regional Medical Center's physicians together to discuss treatment plans on a weekly basis
A state–of–the art outpatient facility and a dedicated inpatient oncology unit
Breast cancer and breast imaging services