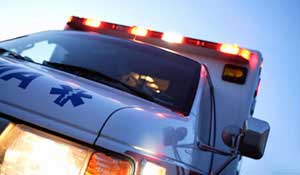 Emergency Room in Alexandria, LA
If you or someone you know is having an emergency, you can trust the ER at Rapides Regional Medical Center. Serving the Central Louisiana community - and beyond - our ER is here to provide exceptional treatment, 24 hours a day, every day of the year. Get Directions
Our facility is the only hospital in Central Louisiana that offers Trauma Care services, is recognized as a Certified Primary Stroke Center and Certified Chest Pain Center.
If you think you may be experiencing a medical emergency, immediately call 911.
What to expect?
When visiting an emergency room, you'll notice that the process is a bit different than what you would experience in your doctor's office. While in our emergency department, here's what you can expect:
Triage
A Triage nurse will assess you upon your arrival and evaluate your chief complaint and vital signs. Your priority of treatment is based on the severity of your illness, as determined by the trauma nurse. You will be seen in order of arrival time, unless you are determined to be seriously ill or unstable. Those patients determined to be emergency will be taken to the treatment area immediately.
Registration
The registration clerk will obtain information for your medical record, including billing information. The clerk will also obtain authorization for treatment from your insurance company. All patients will be medically screened, evaluated and stabilized regardless of insurance or ability to pay.
Our Commitment to You
It is the policy of Rapides Regional Medical Center that anyone who comes to our emergency department for examination and/or treatment of any emergency medical condition or for active labor will receive examination, stabilization treatment and/or transfer as determined by the patient's needs and the capabilities of the hospital. The provision of emergency services and care shall not be based upon, nor affected by, the person's race, ethnicity, religion, national origin, citizenship, age, sex, pre-existing condition, physical or mental handicap, insurance, status or ability to pay for medical services.
*Message and data rates may apply. For more info visit texterhelp.com.