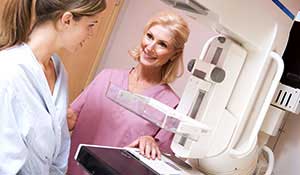 Early detection is the best protection against breast cancer.
By taking a proactive approach to beast cancer detection through breast self-exams, discovering what is normal for you, and learning about available screening options, you can detect breast cancer at the earliest stage possible, when treatment is most successful.
Breast Cancer Myth or Fact?
Have you heard the urban legend that deodorant causes breast cancer? Click on the questions below to uncover the truth about this and other common breast cancer myths.
Information courtesy of Sharecare, Inc. Learn more about breast cancer myths and facts.
Breast Cancer Prevention Tips
1. Self Exam
Conducting a regular breast self-exam can help identify breast cancer in its early stages.
---
2. What's Normal and What's Not?
Breasts differ in size, shape and density, and often one breast will be slightly different from its pair. Conducting breast self-exams and learning what's normal for you is important. Learn more about your risk of developing breast cancer in the video below.
---
3. Breast Cancer Screenings
Breast cancer screenings include three different types:
Clinical Breast Exams (CBE): performed by your healthcare provider to check for lumps or abnormalities of the breast and underarm area.
Mammograms: X-ray of the breast to find tumors too small to feel and ductal carcinoma in situ (DCIS), abnormal cells in the lining of the breast duct. Learn more about screening and the latest technologies.
Magnetic Resonance Imaging (MRI): For women at high-risk of breast cancer, MRI screening may be used. MRI uses a magnet, radio waves and a computer to create detailed images of the breast and surrounding areas.
For questions about scheduling your next mammogram call (318) 769-7048.