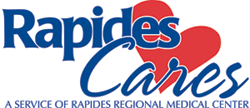 Rapides Regional Medical Center is dedicated to supporting our community, especially when it comes to its health. That is why we have Rapides Cares. This program supports important charitable donations while supporting our corporate strategy and community benefit plan.
Every three years, RRMC develops a Community Benefit Plan to consistently and logically assure and document its sensitivity, knowledge and involvement in addressing community health status. The areas of focus identified in the most recent plan include: access to care, obesity/physical activities, cardiovascular disease, diabetes, women's and children's health, oncology, healthcare workforce development, community involvement and economic development.
RRMC supports contribution requests that are dedicated to:
Community Health Improvement Services: donations defined as supporting senior health programs, women's and children's health programs, community/city/chamber events, youth events and Partners in Education.
Community Benefit: donations defined as supporting school or college sponsored academics, arts and athletics including advertising in yearbooks and athletic signage/marketing items.
RRMC and its employees provide significant support to many local organizations such as United Way, American Heart Association and the American Cancer Society. A one time per year donation will be made to organizations, and no additional donations for affiliated agencies will be granted.
Contribution Criteria
The following criteria will be considered for each request:
501©(3) status of organization/company
Completion of proper donation letter request format
Community benefit complements impact of the organization
Community benefit complements RRMC strategic initiatives
Organization/company is located in the RRMC defined service area RRMC will not fund events or fundraisers that benefit one individual, political candidates or groups, or religious activities.
Donation Letter Request Format
Donation requests must be sent by the first of each month. A committee will review each request monthly; therefore you should expect a written response within 30 days of initial request. You will receive a letter of congratulations or denial also within this time period.
The following information must be included in a donation request letter:
Mission of organization, area and populations served by the organization, and goal to achieve for event/sponsorship requested
Disclose association with other not-for-profits or businesses
Brief description of project, event or activity requiring funding
Explain how request will achieve community benefit as defined by RRMC plan
Dollar amount organization is requesting
Any previous funding (past two years) received from RRMC
List of board members and key staff
Copy of the organization's tax-exempt letter from the IRS or equivalent
Address/contact person where check should be mailed
Please send by email to Charla Ducote or mail to:
Rapides Regional Medical Center
Administration, Donation Request
Attention: Charla Ducote
211 Fourth Street
Alexandria, LA 71301