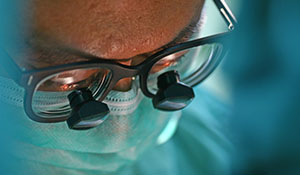 Rapides Regional Medical Center offers the latest technology and a talented team of surgeons and staff to meet your surgical needs, whether you are in need of inpatient or outpatient surgery, also known as day surgery.
Rapides Regional Medical Center was the first hospital in the state to offer the complete Brainlab neurosurgical suite, and we are home to two daVinci Xi robotic surgical systems.
Our latest addition is the region's first Hybrid OR suite. This $2.8 million addition will allow cardiovascular surgeons, cardiologists and electrophysiologists to address a wide array of structural issues with the heart. The hybrid OR combines a heart catheterization lab with a radiology suite with an operating room, providing flexibility to optimize procedures in a surgical setting. Among the procedures that will take place in the hybrid OR are TAVR – Transcatheter Aortic Valve Replacement – and Convergence, a procedure used to treat several atrial fibrillation which requires the skills of both a cardiovascular surgeon and electrophysiologist.
Our advanced surgical technologies and minimally invasive procedures – along with a well-trained and experienced staff help patients see greater results.
Surgeries are performed at Rapides Regional Medical Center and Rapides Women's and Children's Hospital, followed by recovery in the Peri-Anesthesia Care units located in both facilities.
Find a Surgeon
If your physician has recommended a surgical procedure and you'd like to speak to or make an appointment with a surgeon at Rapides Regional Medical Center, call 1-877-801-8441. Or, visit our online physician directory.
Pre-Admission Testing
For patients who are scheduled for day surgery, you will be contacted by one of our registered nurses a few days prior to your procedure. The nurse will ask you about your medical history, your current medications and other pertinent information. The staff can also help answer any questions you may have.