With its specially trained staff and leading-edge technology, Rapides Women's and Children's Hospital is well-prepared to care for your newborn in our NICU. We are an experienced team of neonatal nurses – all certified in Neonatal CPR and who have completed an in-depth course in the stabilization and care of critically ill newborns.
Our neonatologists provide coverage 24 hours a day, 7 days a week. Your pediatrician will work with our staff to provide direct care, consultation and attendance at deliveries of high-risk infants.
Developmental care and neonatal pain management are key to your child's development – and we provide both.
Cuddler Program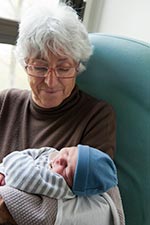 We know you want to be with your baby every second. But we also know that parents can't always spend all their time in the NICU. Some babies are with us for months, and we know parents' jobs and other family obligations require attention, too.
The good news is that Rapides Women's and Children's Hospital offers a volunteer Cuddler program to fill the gap. NICU Cuddlers are hospital trained volunteers who provide therapeutic talk and touch. Cuddlers don't feed or change diapers or walk around with babies. They hold them, rock them, read to them or sing quietly to them. Cuddling sessions can last up to two hours.
Studies show this type of interaction helps babies grow faster and impacts brain development for years to come. Parents can choose to have their babies included in the Cuddler program, or, opt out of the program. All of our Cuddlers have hospital and NICU training and complete an extensive screening process through our Human Resources department.
At this time, we have more than enough applications to fill the available Cuddler slots. Check back from time to time though, as we will open applications again as spots become available.