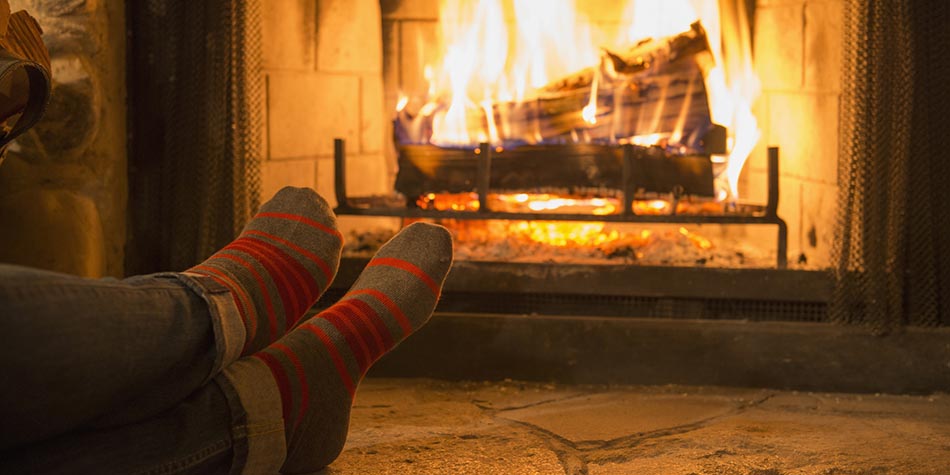 2020 is almost over – FINALLY! And there's no doubt that we are all hoping for a better 2021. But let's not have the end of this "eventful" year go up in flames.
So much of what we do during the holidays involves fire. From cooking to scented candles, and fireplaces to fireworks, the chance of getting burned or having an accidental home fire go through the roof. The American Red Cross estimates that holiday fires claim more than 500 lives and cause more than 2,000 injuries each year.
According to the National Fire Protection Association (NFPA):
Christmas (73% increase) and Christmas eve (66% increase) rank second and third, respectively, for the most home cooking fires (Thanksgiving is first).
Ten percent of fireworks fires occur from December 30th through January 3rd, with a peak on New Year's Day.
Candle fires peak in December with the most occurring on Christmas Eve and Christmas day.
And those are just the fires that are reported!
"The holidays are one of the busiest times of the year for burn centers," said James Hebert, M.D., Rapides Regional Medical Center medical director. "But being aware of how fires start and practicing fire safety can help keep you and your loved ones out of the emergency room."
Tips for avoiding a holiday burn
Keep these tips top of mind as you celebrate this holiday season.
Man your pan – Unattended cooking equipment is a major cause of fires and burn injuries.
Dress for success – Almost 8% of cooking fire deaths are caused by clothing catching on fire according to the NFPA.
Leave it to the pros – More than half of reported non-fatal cooking fire injuries happen when people try to put it out themselves, according to the NFPA.
Keep a safe space – Make sure fire pits, space heaters, candles and other potential fire starters are kept away from flammable materials, on firm surfaces and away from children and pets. And don't overload electrical outlets!
Tend to your tree – According to the NFPA, one of every 52 reported home fires that began with a Christmas tree resulted in a death, compared to an average of one death per 135 reported home fires. To help prevent a tree fire:

Look for the "fire resistant" label when buying an artificial tree.
Keep the tree away from the fireplace or radiator.
Make sure real trees are fresh and always have water in the basin.
Spritz fresh wreaths and table centerpieces with water to keep them moist.
Never block an exit with a Christmas tree.
Never use lit candles to decorate a tree – even if you see it on Pinterest!
Check lights for broken or cracked sockets and discard if they are damaged. (20% of Christmas tree fires are caused by electrical failure or malfunction of lights!)

Fry under the sky – Deep-friend turkeys have become increasingly popular, but extreme caution should be exercised when choosing this cooking method. Use turkey fryers outside and keep it a safe distance from the house. Also, never leave the fryer unattended, don't overfill it with oil and don't cook in your garage.
When to go to the emergency room for a burn
If you or a loved one happens to get burned, don't panic. "Most burns are first-degree burns and can be treated at home," Dr. Hebert said.
If the burn is minor:
Cool the burn – Flush the area with room temperature or cool tap water. This should be done until the pain decreases, but not longer than five minutes.
Clean the burn with mild soap and tap water.
Cover the burn with a sterile bandage.
Treat the pain – Take acetaminophen or other pain reliever.
Never:
Apply ice or ice water. Ice can be too harsh for burned skin and can cause further tissue damage.
Apply butter, which can increase the risk of infection if the burn is severe.
Remove clothing stuck to a burn.
"If a burn that is treated at home is not healing appropriately, see your physician," Dr. Hebert said.
Dr. Hebert says to go to the emergency room if:
The burn penetrates deeper into the skin.
There is a charred appearance or colored patches.
There is blistering or skin sloughing.
The burn is painless with pale white skin.
There are burns to the face, hands, feet, genitals or over joints. These can come with more significant consequences.
There are burns to more than 1% of the body (Your palm equals about 1% body surface area).
Involves chemicals or electricity.
There is an inhalational injury.
Look for these signs of an inhalation injury:
Burns on the lips or mouth
Coughing
Trouble breathing
Dark mucus
Voice changes
Wheezing
Burns on the head, face, neck, eyebrows or nose hairs