 After 10 months of construction, Rapides Regional Medical Center is set to open a new, larger, $2.1 million helipad atop its South Tower building.
The helipad, which measures 65 feet by 65 feet, with an accompanying elevator, is designed to accommodate larger helicopters, such as those used by many ambulance services and the U.S. Army/National Guard.
"With the growth of our Trauma Center and emergency services, we needed to expand our capacity for air transport," explained Becky Barnes, Chief Operating Officer, Rapides Regional Medical Center. "This entire project really comes after multiple requests from our outlying hospitals and ambulance services, specifically those transferring patients to our Trauma Center, babies to our NICU, children to our PICU, and heart attack and stroke patients to our ER."
Currently, Rapides Regional hosts around 450 air landings a year. That number is expected to increase once the new helipad and existing helipad are in service. Emergency patients will arrive via the new helipad, and take a direct route by elevator directly to the Emergency Department on the first floor.
"The helicopter pilots are excited about the new helipad," Barnes said. "It's a convenience to them since the route to the Emergency Department is now shorter. They can transport their patient quickly and get back in the air."
Since the existing helipad will remain in operation, cardiac patients going directly to the cath lab can be transported via that helipad, which has a direct route to Rapides Heart Center. With two helipads in service, Rapides Regional Medical Center can accommodate multiple patient transports at one time. Rapides Regional is the only hospital with two helipads in the region.
"When we designed the new helipad, we knew we wanted something that was large enough and substantial enough to accommodate Blackhawk helicopters, but lightweight enough to sit atop the South Tower," Barnes said. "This is the next level of design when it comes to helipads. It really is state-of –the-art. This allows us to serve our community, our military and our general patients, in the very best way possible."
During the project, engineers and construction contractors had to consider air quality – as the South Tower's intake ducts are on the roof, where helicopter emissions would be plentiful – and the potential for fuel spills.
"We installed filters to keep emissions out of the air conditioner intake," Barnes said. "And, we have a fire suppression system that has been thoroughly tested. All of these things were considered and thought out before we placed the first beam.
The new helipad is set to open later this month pending FAA clearance.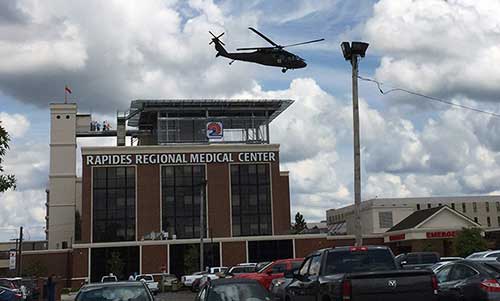 News Related Content