 Alexandria, LA. - HCA has honored Rapides Regional Medical Center nursing units through its 2019 Units of Distinction Awards.
Rapides Regional Medical Center's Day Surgery unit was ranked No. 3, Labor and Delivery was ranked No. 8 and 3 West was ranked No. 25 among facilities owned by the Hospital Corporation of America (HCA).
This is the fifth year HCA has recognized its top nursing units, and the fifth year Rapides Regional Medical Center has had multiple nursing units honored for excellence in patient care.
"This is a huge honor for us," Rapides Regional Medical Center CEO Jason Cobb told his nurse managers after the award announcements. "Our staff know that as humbling as this award is, the reason they do what they do every day is because they want to provide the best care possible for their patients. I'm in awe of what they do each day."
The "Unit of Distinction" designation is achieved through measurable, exemplary performance in the strategic areas of Advocacy and Leadership, Consistency in Nursing Practice and Operations, and Leveraging Scale to Drive Performance. In 2019, more than 1,000 HCA Nursing units participated in the program.
HCA ranked the top 50 Medical-Surgical units. Rapides Regional Medical Center nursing units honored were:
Day Surgery, Nurse Manager Cheryl Bordelon, No. 3
L&D, Nurse Manager Heather Ledet, No. 8
3 West, Nurse Manager Christina Blackmon, No. 25.
This was the first time that Day Surgery and L&D participated in the Units of Distinction program. 3 West has been named in the Top 5 percent of Units of Distinction for each of the five years the award has been in existence.
"The quality of care patients receive at Rapides Regional Medical Center is second to none," said Barbara Griffin, MSN, RN, NE-BC, Chief Nursing Officer. "Each year, this award testifies to that. This award showcases the hard work of everyone on our staff who cares for patients."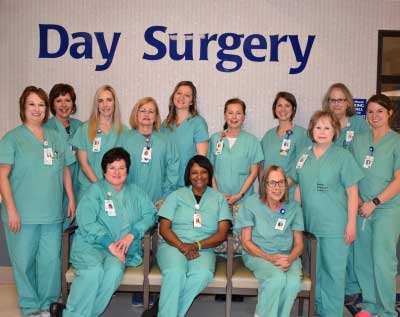 Launched in 2014, the Unit of Distinction Awards are an essential component of HCA's multifaceted Excellence in Nursing plan. This is the fifth year for the Unit of Distinction Awards. The company supports each nurse's professional dedication with a solid foundation of encouragement and an involved environment in order to help them fulfill their potential and further their careers.
News Related Content